YERSIN Yacht Sales
A unique yacht for today's world designed for long-distance explorations with good seakeeping in absolute comfort and silence.
YERSIN is an extraordinary go-anywhere sustainable discovery vessel. As one of the world's only clean and green vessels, she is a true masterpiece inside and out. This proven multi-purpose boat was chosen to be part of the prestigious Explorations de Monaco and is proud to explore the globe without leaving a trace. Guests can experience the most unique adventures in complete comfort as she can go where most other vessels cannot, due to her minimal impact on the environment.
She combines innovative technology with some of the highest standards of comfort and safety possible. This incredible eco-focused vessel is world renowned for being one of the planet's most environmentally friendly, boasting zero emissions.
This unique sustainable cruiser, accommodates 18 guests in 8 pristine staterooms. YERSIN aims to leave lasting memories from every expedition, without leaving a stain on the environment.
Availability is flexible and she can be chartered in a range of destinations, dependent on requests, from the Baltics (Norway, Finland, Russia, Iceland) to the Pacific (Kamchatka, Japan and Antarctica) and even Greenland, just to name a few. She can withstand temperatures from -20 degrees to over 50 degrees Celsius.
YERSIN combines luxury features including an elevator connecting all guest decks, spa and gym, with true explorer facilities: a research laboratory and classroom/conference room, media room, hospital and professional diving facility.
Read the story behind the explorer by the Owner and Captain of YERSIN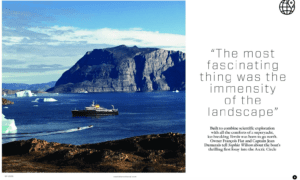 KEY FEATURES:
• ICE CLASS
• POLAR CODE
• MAXIMUM SAFETY: SOLAS PASSENGER SHIP CLASS
• LONG RANGE: 12,000 nm
• ECO-FRIENDLY
Sustainable credentials
A.S.E project: Adventure, science, education
Non-wood sustainable resin decks
Chemical-free products used on board, garbage & waste sorting, plastic collection and recycling programme
Carbon offset programme and optimised energy consumption
Water filtering on board
Diesel electric propulsion Azipods & 600KWA directional pump jet
Silent operation at anchor and under way
Micro-vibrations to prevent ecologically biofilm growth offering
Low fuel consumption (360-litres of fuel per hour @ 11kts)
Zero emission highly efficient exhaust filters retaining 99.8% of dirty soot
Hull anti-fouling, treated with a silicone coating to prevent the release of harmful chemicals
Onboard features
Interior Design by Pierre-Jacques Kubis, inspired by the ships of the early 20th century
Dynamic positioning system for access to Natural Marine Parks
Ice-classed hull 1C
Elevator connecting all guests level
Spa & Gym
12,000 nautical range with full autonomy for 50 days
Media room
Research laboratory and classroom/conference room on board
Teppanyaki grill
YERSIN's asking price is 59,000,000€ VAT paid.