An explosion of brokerage activity in late 2020 resulted in December becoming the second strongest single month for brokerage sales since 2009. The brief easing of coronavirus restrictions seen in the latter half of 2020 gave people a chance to inspect superyachts, spurring activity.
Greg Gheraia director of BLACKORANGE SuperYacht Experts says that the lockdowns "really made us think about life and spending more time with loved ones. If you were thinking about buying a super yacht before the pandemic then in 2020 you were buying a superyacht."  Most clients were simply looking for some freedom after various lockdowns. Having more time on their hands was also a contributing factor to the sales surge.
The month of December racked up a total of 57 sales, eclipsing the 42 recorded in December 2019 and the 38 recorded in 2018. In fact, figures show that the second half of 2020 was the best six months for brokerage sales since 2009, while the fourth quarter of the year was also the best on record*.
As a matter of  fact, BLACKORANGE made the last sale of the year with the 31.57 metre Arcadia motor yacht RJ and currently BlackOrange has under sales contract for a  40m as well as a 50m  and a build project for a 60m  which is close to completion.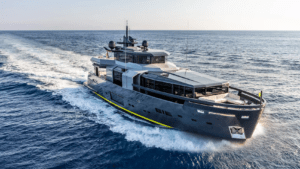 The fact that more brokerage yachts were sold in 2020 compared to 2019 is remarkable given the weakness of the market at start of the pandemic. In March, April and May 2020, just 62 yachts changed hands, well down on 2019's figure of 112 and 2018's 129. However, the market roared back in the second half to set new records for yacht sales.
The strong sales performance has continued into 2021, and Greg Gheraia is optimistic the run will continue. "I think we're going to see a similar story as we move into this year" he says, "the amount of enquiries and transactions is encouraging".
Amid ever-changing state orders, social-distancing guidelines, and the new normal, it is clear that there will be lasting impacts to the way we previously carried out our daily lives. This new reality also applies to how we vacation, relax, and blow off steam.
Superyacht charters have also grown in popularity. "The chartering is mostly households and families"  Greg Gheraia says. "they are extremely busy and all of charter superyachts  are booking out well in advance."

Titania superyacht for charter
Learn more about BLACKORANGE superyachts for sale and superyachts for charter
*Data source: BOAT INTERNATIONAL